(408) 573-9000
2025 Gateway Place, Suite 360 San Jose, CA 95110

EKKSC Offers Complete Range of Semiconductor Materials for Comparative Temperature and Chemical Resistance Levels.


Superior® Perfluoroelastomer FFKM


Superior® FKM  (proprietary/patented cure system)
F815 (Black Translucent)
Superior F815 was specifically developed to be a cost-effective, high-performance compound for semiconductor applications. Superior F815 is an ultra-clean high Fluorine FKM with increased temperature resistance to 220° C, while offering outstanding plasma resistance and low particulation in a wide range of plasma environments.
Silicone VMQ
Fluorosilicone FVMQ
Hydrogenated Nitrile HNBR
Extreme FKM
Fluoroelastomer FKM
Range of Semiconductor Materials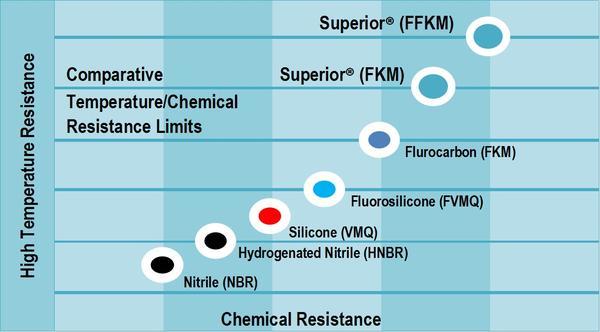 Sealing components made of elastomeric materials can have inherently high surface energies (tackiness) and a high coefficient of friction (COF). Whenever an elastomeric seal makes contact with the mating component, the interface of the two surfaces can produce a "stiction" effect. This can be detrimental when the contact is intermittent. Applications that require low stiction and long service life such as valve sealing components and diaphragms can greatly benefit from RFN treatment.
Seal Design Engineering Application Form
Please provide us with your application details so we can recommend the best solution:
© Copyright 2020. All Rights Reserved.